There has been an ongoing battle in the music industry with illegal downloads.  The music industry has to envolve to encourage users to buy music.
The latest attempt to encourage users to buy albums has come from Kaiser Chiefs.  Their new album 'The Future is Medieval' has been released (3rd June) and is available online only for a limited period of time.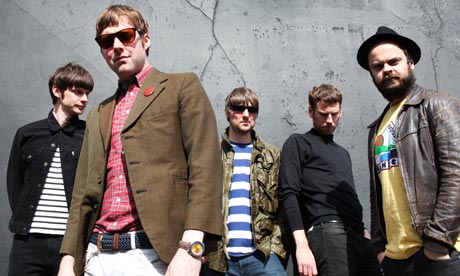 Using the bands Website fans can select ten of their favourite tunes (from a selection of 20) to make their own bespoke version (with choice of artwork) of the new Kaiser Chiefs album 'The Future is Medieval'.   Users purchase and download their bespoke album for £7.50.
Fans get their own webpage with their personalised album and are encouraged to promote their bespoke album via social media channels (e.g. Facebook and Twitter). For every bespoke album the fan sells they will receive £1 through a personalised transactional website.
Kaiser Chiefs have also partnered with the Alzheimer's Society who created their own version of the album and the band will donate all profits from this album to the Alzheimer's Society.
In the launch statement the band explained that the intention was to 'revitalise and subvert the industry standard'. Fans can hear/download the record at the same time as the media and critics which hopefully helps to improve the experience and bring extra excitement to the fans.
Will this new idea be enough to help revive the music industry and combat the illegal downloads or could it be just a good marketing stunt?  People like to interact with brands, and social media is one of the most popular ways to do this, so this campaign could tick all the boxes!